2022 – 2023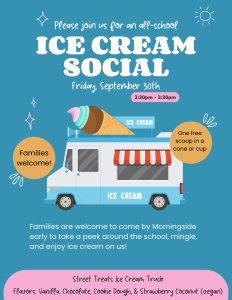 Ice Cream Social:
 In September, we hosted an Ice Cream Social for students and their families. It was a fun way to start the school year and mingle with other Morningsiders! We had an ice cream truck from Street Treats with multiple flavors, but cookie dough was by far the crowd favorite.
Seattle Glassblowing Studio:
 In October, we walked to Seattle Glassblowing Studio where we got to see a team of glassblowers make various objects in front of our eyes! Students learned about glassblowing techniques and the importance of teamwork in glassblowing. We were very impressed with how quickly pieces came together and how the team communicated to make extraordinary pieces. Students talked about their experiences for weeks!
MadArt: MadArt is a contemporary art organization/studio that has hosted artists from around the world since its start in 2009. They are known for their exhibitions in unique spaces and have partnered with us before on a variety of fun student field trips. In November, we had the privilege to walk to the studio near Denny Park to see Seattle-based artist Alison Stigora's incredible driftwood installation called "Salvage" – made entirely of the dangerous debris in our region's waterways collected by the Army Corps of Engineers recovery vessel, M/V Puget.
Game Night: In November, we hosted a game night with Blue Highway Games, an incredible game store in Queen Anne, for our students and families. Blue Highway brought a variety of games for everyone to enjoy and they donated 20% of proceeds made that night back to the school! We picked up a few favorites to have on hand for recess, and families were able to purchase their favorite games, too. We had a massive turnout of 100 RSVPs!
Gingerbread Village: During our last week before Winter Break, classes went on a quick walking field trip to the Sheraton Hotel where they host an annual epic gingerbread display. This year the theme was Buzzing Back, a riff on the new Buzz Lightyear movie. Students got to experience massive gingerbread structures made by local architects and the Sheraton's culinary team, reported to be made of over 800 pounds of gingerbread and 250 pounds of royal icing! This event is a fundraiser and all donations went to the Juvenile Diabetes Research Foundation's NW Chapter.
August 2022
Welcome to our new Administrators!
We welcome Kathy Fox as Assistant Director and Vice Principal! Kathy spent 13 years at the Haugland Learning Center/New Story Schools in Columbus, Ohio, starting as a teacher and eventually moving into the position of Senior Director. Since 2014, Kathy has also worked with Morningside Teachers' Academy, coaching teachers using the Morningside Model of Generative Instruction at partner schools in North Carolina and Massachusetts. 
Nicolle Simon is our new Director of Operations. Nicolle was most recently the Chief Clinical Officer for School Services for Connections Behavior Planning and Intervention. Prior to that position, she spent seven years at The Academy for Precision Learning.Welcome Nicolle!
Recently Published!
For over 40 years, Morningside has investigated the most effective methods for developing learners, thinkers, and citizens. In this book, the authors describe a technology of instruction based on scientific research that has improved the academic performance of children at schools and agencies throughout the world. The Morningside Model of Generative Instruction combines curated curriculum, formal instruction, practice to fluency, and a focus on directly teaching functional thinking repertoires for generative responding. The result is expert and confident learners who apply skills and strategies to think about the world around them, continue to learn on their own, and solve problems of daily living.
Available from Morningside Press and Sloan Publishing